welcome!
Welcome and thank you for reviewing information regarding Iowa land for sale in the Quad Cities. I hope you will find this site helpful and I look forward to any questions you may have about this very unique development opportunity. New for 2017: an announcement new casino and other commercial development about 1 mile west of the property as well as Veteran's Memorial Parkway going along the south boundary of the farm. Construction for the new highway is in progress now. This document provides a concept showing an idea of how the land could be used.
If you're seeking development land in the Heartland of America, look no further. These 200 acres (mol) of Iowa land for sale are located between Chicago, Illinois and Des Moines, Iowa in the Iowa Quad Cities. The Quad Cities are located on the mighty Mississippi River and consist of Davenport, Iowa, Bettendorf, Iowa, Moline, Illinois and Rock Island, Illinois. A portion of this land lies within Davenport, Iowa and the remainder in Bettendorf, Iowa. The Davenport parcel is in the Bettendorf School District and the Bettendorf portion in the Pleasant Valley School District. Past and present uses have been and are grain farming; topography is flat to gently rolling. Zoning is currently agricultural. Residential and commercial are among the possible new opportunities for this site. The development site is bordered on the south by Forest Grove Drive and the north boundary is Interstate-80. This land is close to one of the most rapidly growing commercial areas in the Quad Cities. Fashionable restaurants, grocery shopping and retail shopping, including WalMart, Lowe's, Walgreen Drug, Starbucks, Target and Dick's Sporting Goods are but a few of the new businesses within minutes of the site. A multi-plex theatre, new medical offices, state-of-the-art hospital and new lodging facilities are also a part of the development landscape. Directly across Forest Grove Drive to the south are newer, upscale, single-family residential developments and private golf club.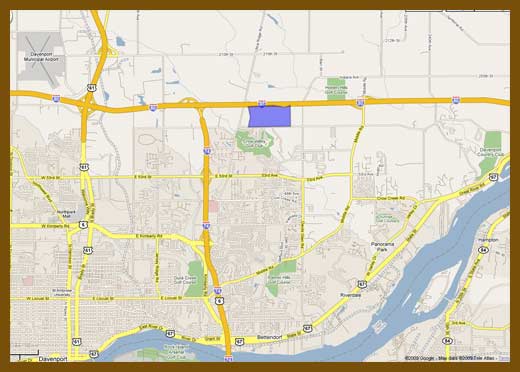 A 12" sewer main runs from south to north across the property and public water, public sewer and natural gas are located on the south edge. Transportation is readily available. I-80 runs parallel with the land on the north boundary, with easy access to I-74. In addition, Forest Grove willbe paved, with 4 lanes of traffic. A buffer of trees, now reaching a mature level of growth, have been planted along the north side. Your visit has been appreciated. Please take a moment to view the Links page and discover more about Iowa and our friendly Quad Cities. If you have any questions, do not hesitate to contact me for additional help regarding property-specific questions or any other information about the Quad Cities. Thank you again for stopping and I'm looking forward to hearing from you. Virginia MCCall, a principle in Circle K Properties LLC, is also a licensed realtor in Iowa.